Thank you for your submissions to CSCA 2021!
2021 Call for Submissions 
Central States Communication Association
2021 Annual Conference
Inspire
Virtual
March 23 – March 28, 2021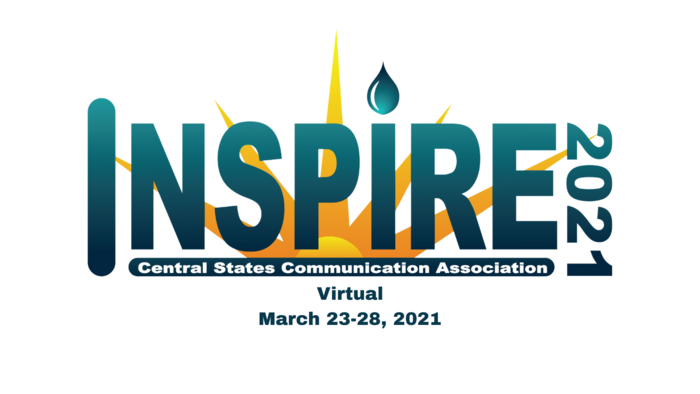 You are cordially invited to submit competitive papers, panel discussions, and performance sessions for our virtual 90th Annual Convention. Members are encouraged to reflect on the theme of Inspire. Our many roles as teachers and scholars ask a great deal from us intellectually, emotionally, and relationally. Our annual conference provides us an opportunity to pause, reflect, connect, and reconnect with each other and with what inspired us to choose these lives we lead. When the conference is at its best, our connections often help us to reinvigorate our energy so that we can return to our homes to offer energy to our students, our colleagues, our families and friends, and our work. This is particularly true as we navigate through and out of the COVID-19 pandemic. How does our work inspire other individuals, communities, organizations, and societies toward their aspirations? How can we inspire our students? Each other?
Central States is a space that is reinvented every time we gather together at the conference, every time we talk with a colleague, and every time we share our research, our teaching ideas, and our very selves. We are not a perfect organization. How can we inspire each other to create a welcoming space for all our members?
Faculty, students, independent scholars, and community members are all encouraged to submit and attend the convention. Institutional and community partnerships are particularly welcome. Submissions inclusive of all methodological perspectives in the communication discipline are expected and embraced.
Check out specific calls and submission information from each of the 20+ CSCA Interest Groups, Caucuses, and Sections.
For questions about the general call or the 2021 annual conference, please contact Debbie Ford, 2021 primary program planner, at DebraFord@creighton.edu.
Deadline for Submissions: 11:59 PM CDT, October 9, 2020
Directions for using the online system: Online Submission Directions
Online Submission Link: https://ww4.aievolution.com/csc2101/
The deadline for submissions has passed and notification decisions have been sent.
---
Information for 2021 Planners