2022 Call for Submissions
Central States Communication Association
2022 Annual Conference
Re-connect
Madison, Wisconsin
March 30 – April 3, 2022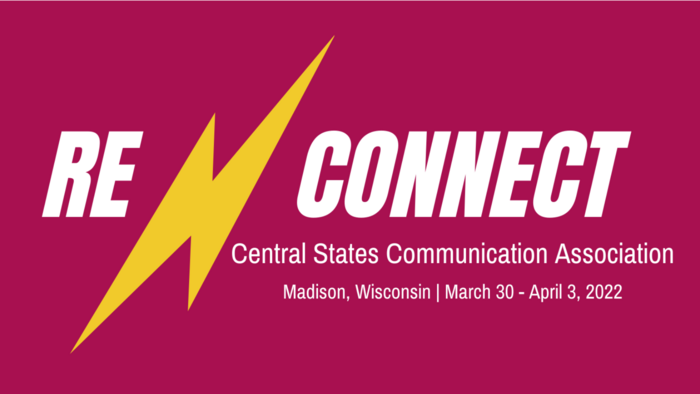 You are cordially invited to submit competitive papers, panel discussions, and performance sessions for our 91st Annual Convention in Madison, Wisconsin. Members are encouraged to reflect on the theme of Re-connect. It is time (hopefully) to come together in person after our two years of very different conference circumstances. We made it through together through many challenges—let's celebrate together!
Our annual conference provides us an opportunity to re-connect with each other; with where we have been in our work, our discipline, and our lives overall; and with how we create our futures. It also provides us with new opportunities: How can we forge new, more inclusive paths to expansive horizons in thought, creativity, expression, and scholarship?
As I noted in 2020-2021, Central States is a space that is reinvented every time we gather together at the conference, every time we talk with a colleague, and every time we share our research, our teaching ideas, and our very selves. We are not a perfect organization. How can we re-connect--connect again, but anew, creating a more welcoming space for all our members?
Faculty, students, independent scholars, and community members are encouraged to submit and attend the convention. Institutional and community partnerships are particularly welcome. Submissions inclusive of all methodological perspectives in the communication discipline are expected and embraced. Submissions that foreground the voices of marginalized groups and underrepresented scholars are especially welcomed.
Watch for specific calls and submission information from each of the 27 CSCA Interest Groups, Caucuses, and Sections.
Questions about the general call or the 2022 conference:
Contact Deb Ford, 2022 primary program planner
Deadline for Submissions: October 8, 2021, 11:59 pm CDT
Directions for using the online system: Online Submission Directions
---
Information for 2022 Planners
Call for Submissions
Convention